How to Change Dividend Reinvestment in Charles Schwab
If you forgot to check the Reinvest Dividends option while purchasing a stock or ETF on schwab, you can do so after the fact via the following:
First click through Accounts>Positions>Market Value: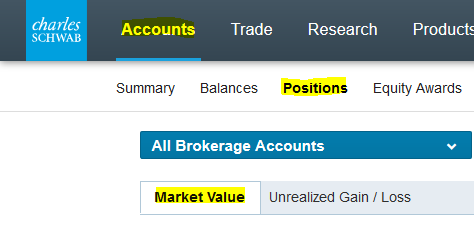 Then scroll down to the stock for which you want to reinvest dividends, and look for the Reinvest? links on the right side of the table:

Click on the No link and then change it.
---
Comments
Add Comment
---
Name: Name
Creation Date: 2020-08-04
Thanks, man
---
Name: Lorraine Kelly
Creation Date: 2020-10-07
The new website does not have the option to change reinvest to non re-invest. How is this done on the website now--cannot locate..????
---